Kason now offers a "Quick-Ship" program on certain models of VIBROSCREEN Circular Vibratory Screeners and CENTRI-SIFTER Centrifugal Sifters and Separators, as well as a wide variety of aftermarket replacement parts
Qualifying designs can be made available for shipment within 5 to 7 business days, thanks to the innovative and streamlined manufacturing program announced by Kason Corporation.
All units can be furnished to meet the most stringent industrial and food-grade standards.
VIBROSCREEN Circular Vibratory Screeners & Separators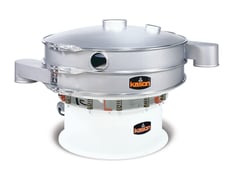 Kason's standard models of gravity-fed VIBROSCREEN single-deck screeners, in diameters from 18 to 60 in. (460 to 1525 mm) and with screen meshes ranging from 2-mesh (11 mm) to 325-mesh (45 microns), can be made available with a quick turnaround time to meet the most demanding production schedules.
CENTRI-SIFTER Centrifugal Sifters & Separators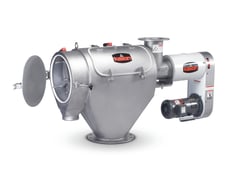 A number of our standard gravity-fed and In-line Pneumatic models of CENTRI-SIFTER centrifugal sifters and separators are also eligible for quick shipment. These units are ideal for sifting, de-agglomerating and dewatering of granular materials ranging from dry bulk solids to solids-laden slurries, including moist materials that tend to ball or agglomerate.
Aftermarket Replacement Parts and Screens
If you need replacement parts QUICKLY for a Kason machines or other compatible machine with quick turnaround times, we stock a sizable inventory of consumables that are available to ship within a matter of days.
"Quick-Ship" spare parts offerings include:
stainless steel clamp ring assemblies

inspection port covers

food-grade white neoprene gaskets

support spring assemblies

anti-blinding polyurethane rings and elastomeric rubber balls

and much more

Kason offers genuine replacement parts for your Kason units, as well as parts that can be utilized on countless makes and models of sifting, screening and processing equipment currently on the market.
Ready to Order?
Simply complete the form and a knowledgeable Kason rep will be in touch with you within one business day. If you need immediate assistance during business hours (Mon-Fri 8:30am-5:00pm), reach out to us using Kason's LiveChat feature, or give us a call at 973-467-8140.